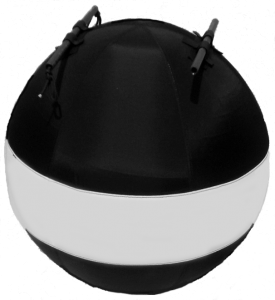 The "Eye Ball" [patent pending] is new, exciting, and quickly becoming the standard by which all horse training equipment is measured.  It's the result of numerous scientific studies which have been conducted at leading institutions across the country.
These studies confirm that the horse's nocturnal eye has unique features, especially when compared to the human eye. Its "visual abilities" are directly related to its behavior.  Since the horse has always been described as a "flight" animal, vision plays a major role not only in behavior but also in trainability.
Horses have amazing peripheral vision but have two blind spots:  one directly in front of the nose extending about four feet, and a second one behind the tail extending about ten feet.  In addition, the horse's field of vision does not overlap.  The left eye sees what's happening on the left side, and the right eye sees what's happening on the right side.  When a horse has focused as best it can, its "near field vision" is only 3/5 that of the human, while it's "far field vision" greatly exceeds that of the human.  So while his vision is good at night and at a distance, it's hard for a horse to focus quickly at close range.  When vision is blurred, and they feel threatened, a horse is forced to rely heavily on their instinct to flee.  This causes stress.  In a training environment stress may compromise the training program and, in some cases, lead to injury.
Animation, in the form of a flag, has been a favorite training tool for horsemen everywhere.  But the flag presents two problems:  it flutters, which may cause stress for the horse and make them want to flee; and it changes dimension as it travels, making it appear more like a sliver.   A sliver is much more difficult for the horse's complicated eye to see and can therefore cause stress.  The "Eye-Ball" does not flutter and remains dimensionally the same from any angle.  Rather than cause stress,  the "Eye-Ball" encourages the horse to relax and allows them to concentrate on their "job" rather than worry about losing sight of the flag or being distracted by it fluttering in the wind.
The flag is usually black with a white stripe since this contrast is easiest for the horse to see.  The "Eye-Ball" is also black with a white stripe and has an inflatable bladder.
The "Eye-Ball" is easily adapted to any existing Pro Cutter, or can be included with a new one.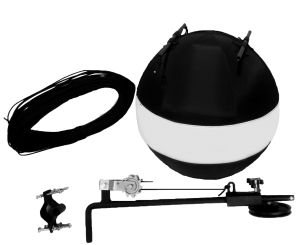 Ball – $99.00    Use existing kevlar cable, slide tubes and return pulley
Ball Package – $299.00 Includes ball, kevlar cable, slide tubes and single-arm cable tensioner