The second generation Pro Cutter Round Pen is designed to accurately simulate a live cow's movements as it moves around the perimeter of either square or round arenas.  Using ultra high-performance electronics, and high-quality pulley stations placed around the inside of any shape arena, the flag is able to travel continuously without endpoints.  By eliminating endpoints, the horse develops a sense of position by learning to head, rate, and travel with the animation without having to stop at the end of each trip across the arena.  Horses become more free moving, learn "angles" and correct body position in a controlled environment.
This unique system can be configured to travel around arenas up to 200′ diameter, square arenas up to 150′, or configured to create unique shapes to fit your specific program.
The Pro Cutter Round Pen controller utilizes the latest in industrial-quality electronics to provide the ultimate in durability and control.  A selectable "lock-up" remote control allows the rider to operate the remote continuously, or "press-and-release" to lock the system running in either direction.  Other features include soft-start acceleration, climate control, manual and logic switches, a new soft-shift feature that provides seamless transitions from slow to fast speeds, remote control with speed change technology, and a switchable brake system.
For ease of installation, each RP package now includes an adjustable mounting plate for the Control Box, and post mounting brackets for each Pulley Station.  With this hardware, the entire system can be installed / removed in 15 – 20 minutes with minimal effort.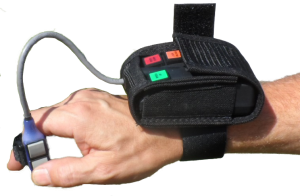 Each Pro Cutter Round Pen package includes:
–  Control Box w/ ultra high performance drive system
–  Long range radio system
        –  Digital Remote control with Stepper Technology
        –  Latch control:  instant or automatic operation
        –  Switchable brake system
–  Adjustable Mounting Plate simplifies installation
–  Pulley Stations with mounts
–  Flat-braid ribbon w/ cord wheel
–  2 Round Pen flags
–  2 Year warranty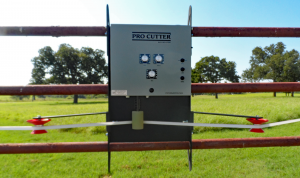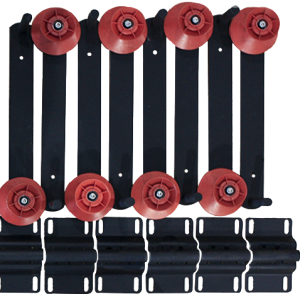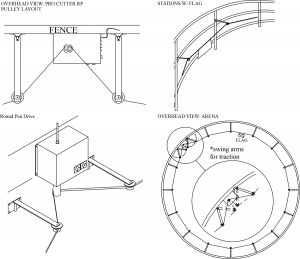 Round Pen Packages are Customized for Your Pen Size
Please call us for a custom quote
Example Round Pen Pricing – Integrated Unit(Prices vary according to individual installation)
Arena Diameter
Arena Circumference
# RP Stations
Package Price
50
157
7
$ 3,814.72
60
189
8
$ 3,918.06
70
220
9
$ 4,021.40
80
252
10
$ 4,124.74
90
283
11
$ 4,228.08
100
315
13
$ 4,430.42
110
346
14
$ 4,533.76
120-STD
378
15
$ 4,637.10
130
409
16
$ 4,740.44
140
441
17
$ 4,843.78
150
472
18
$ 4,947.12
160
504
20
$ 5,149.46
170
535
21
$ 5,259.90
180
566
22
$ 5,363.24
190
598
23
$ 5,466.72
200
629
24
$ 5,570.06
square arena
125 x 4 = 500
10
$ 4,166.00
Packages include the following:
(1) integrated RP drive box
$ 2,499.00
(1) Performance Package with Stepper Technology
$ 299.00
(x) RP stations
$ 99.00 / ea
(2) RP flags
$ 25.00 / ea
(x) RP ribbon
$ 0.14 / ft
(1) Mounting Plate & Hardware
$ 250.00