The Pro Cutter 1504PC is the latest addition to our line of Pro Cutters.  The Pro Cutter 1504PC (programmable computer) offers two unique features:  automatic program creation and crash protection.
When working your horse, every move (start, stop, change direction or change speed) is "automatically" recorded.  By simply pressing the "play" button on the remote control, these moves are then used to automatically create a random program from your riding style.  You can also create and store specific programs if you are working with a problem horse.
Crash protection prevents the cow from running into the fence, either by remote control or computer program playback.  This is a DISTANCE measuring system (not time based like our competition) allowing for complete independent control of SPEEDS, RATE, and BRAKING during PLAYBACK of EACH PROGRAM!  While this type of system is more expensive, you won't have to record a new program every time you want to work a different speed, or worry about running into the fence with your remote control, or frequently re-record programs because of timing errors found on inferior products.
Constructed using ultra high performance components, this popular system contains all the unique features that make Pro Cutters such an outstanding value:  soft-start acceleration, climate control,  manual and logic switches, a soft-shift that provides seamless transitions from slow to fast speeds, remote control with speed-change technology, a cable tensioning device, and the most advanced radio electronics available.
In addition, the Pro Cutter 1504PC package  includes the new flex-cow that actually resembles a live cow: travels straight, stops straight, and turns around "expression".
Complete Package Includes:

Programmable Control Box
Digital Remote Control
Foam Flag, Flex Cow or "Eye-Ball"
Kevlar Cable
Cable Tensioner
Cow Models include a Static Hip Line
Cow and "Eye-Ball models include Slide Tubes
2-year warranty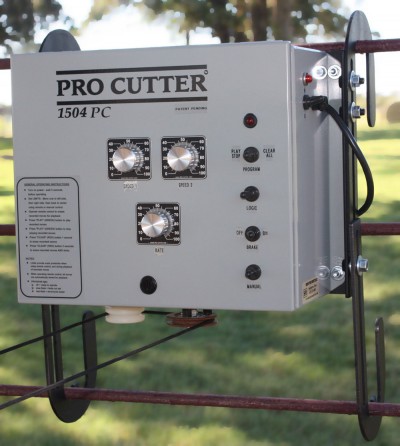 *shown with optional mounting bracket

Features:
Automatic Programming
Crash Protection
Extremely Quiet
Smooth Transition Between Speeds
Heavy Duty Digital Electronics
Manual control
| | |
| --- | --- |
| | "Flag" Model – $2,400.00 |
| | "Eye-Ball" Model – $2,474.00 |
| | "Cow" Model – $2,550.00 |
*All Pro Cutter 1504PC models come with kevlar cable.
*Please provide pen size when ordering.
* Available as 240VAC/50Hz for international at no extra charge.