Pro Cutter™ is the untouched leader in electronic horse training equipment, and recognized worldwide as the "ultimate mechanical cow."  Pro Cutters are being used to train horses in many competitive events such as cutting, reined working cow horse, ranch sorting, reining, team penning, roping, etc. They're also being used by horse owners everywhere wanting to improve their horse's performance or their own riding skills. With seven different models, numerous accessories and upgrades available, you can customize your Pro Cutter™ package to your individual needs.
some of our many friends and long-time customers…
---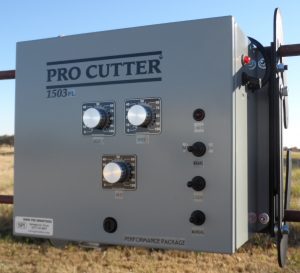 NEW!
Announcing the new

PRO CUTTER 1503PL

which has all the features of our standard PC1503 with two exciting upgrades:
Programmable LIMITS
Single Pre-Programmed Training Run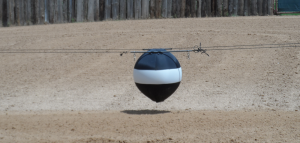 NEW!
The long awaited "Eye-Ball" [Patent Pending] is now available! This exciting and innovative training ball is smoother than a cow, more stable than a flag, and provides a constant dimensional target for the horse.  "Read More"
NEW:
STEPPER Technology:  Speeds that are pre-set on the control box  can be "STEPPED" up or "STEPPED" down using the remote control.
Radio System:   Ultra high-tech radio system uses frequency hopping, digital spread spectrum technology to eliminate interference, hesitation, range issues, and whip antenna.
Computerized:  Programmable Pro Cutters learn your riding style, then automatically create continually evolving runs; OR create and store your own runs!
Crash protection system prevents over-runs when using remote or manual control.
Dual drive:  1804 series employ dual motors which allows the cow to back up and draw the horse through the turns.
RATE control allows rider to determine the rate of acceleration and deceleration.
NEXT generation electronics create the quietest, smoothest, most reliable equipment available.
FACT CHECK:
1. The best performing radio remote control systems in the industry – Period!
2. The most powerful industrial electronics in the industry – Period!
3.The fastest, most reliable customer service in the industry – Period! Just ask your friends!
4. Climate control systems significantly extend product life – Period!  Think about it the   next time you start your vehicle in cold weather.
5. Protected 9 volt battery powers remote control – Ask the competition what they use.
6. Genuine kevlar cable – the highest quality cording available – Period!  Google it and see for yourself.
7. The only industrial quality round pen systems available – Period!
8. The only programmable systems ever offered that learn how you ride – Period! While the competition talks about how many moves you get to record, all Pro Cutter PC models automatically develop programs based on your riding style; or create and store specific programs using the remote control.